It doesn't count if no one understands it…
Science is for everyone. Anybody fascinated by life's interesting questions and the current research surrounding them deserves to become part of the public discourse on science. Traditional news media do a generally terrible job at relaying scientific findings to the public in an unbiased, factual manner.
Here lies the opportunity for scientists to interact with the public directly. It is our job to not only do the work, but to make the work understandable. Writing up your research in an easy to understand fashion also makes you reflect on the key findings and implications of your results. Additionally, we can use this platform to provide advice on career development, applying to graduate schools, and how to navigate academia. In college, I started writing science articles for a general audience (several are linked below; full list in CV), which I continue as a hobby today.
I have also recently started streaming on Twitch! I use twitch to interact with people while I work, and use it as a platform to explain neurosciences concepts and answer questions in real time. Follow/subscribe to my twitch stream here. Finally, a good platform that I've just joined is Skype a Scientist, a service that connects scientists with classrooms all over the world via skype.
If you have an event I may be interested in, please contact me via email (jcbornig@stanford.edu). Above is me pictured (disheveled) at a Neuroscience Education for Urban and Rural Outreach (NEURO) event.
This is a summary I wrote for Frontiers for Young Minds, detailing how early life exposure to nicotine alters sleep in adulthood (click link above; image: Frontiers for Young Minds).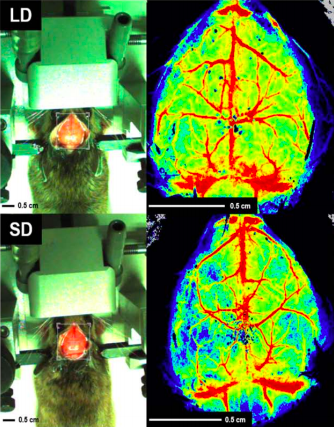 This is a summary of our research on how day length (photoperiod) alters blood flow to the brain in white-footed mice (click link above; image: JCB).
This describes some exciting findings relating melatonin with relapse rates in multiple sclerosis. (click link above.; image: Jooyeun Lee)
This is a piece describing why we so often feel tired and low energy during periods of sickness (click link above; image: Jooyeun Lee)
I wrote a piece for Science about switching career paths from anthropology to neuroscience, and the hardships that came with that. (click link above; image: Robert Neubecker).
I wrote this to highlight the myopic approaches of modern neuroscience, and emphasize that we need to take advantage of more of the available nervous systems on the planet (click link above; image: Frank Beach, 1950).
Banner Image: tomato-lectin-DyLight-594 labeled capillaries (red) in mouse hippocampus (credit: JCB).
All rights reserved: Jeremy Borniger, PhD